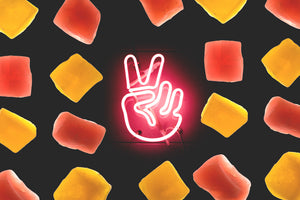 How Many CBD Gummies Should I Eat?
The use of CBD supplements is making huge waves all over the U.S., and other nations are expected to follow suit. Yes, it's something not all people can relate to (or agree with), but there's no stopping CBD when it comes to how people are looking at these health supplements, natural remedies, and whatnots. 
There's growing evidence of cannabinoid's potency in reducing pain and inflammation. Imagine how you can finally get rid of sleeplessness because of pain, but this time there's no need to take the usual pain relievers that usually come with side effects. What's even more interesting is that CBD is now available in interestingly tasty edibles – case in point: CBD gummies. 
CBD Gummies, Anyone?
As the name suggests you're consuming CBD in the form of gummy candies. Could you ask for more? Don't think it is all for fun though, as these gummies have a medical appeal. You probably already know by now that CBD is the shortened term for cannabidiol, a phytocannabinoid found in cannabis and hemp. While there are numerous forms of CBD supplements, the most notable appeal for gummies is that they taste great, like that of conventional gummy bears and worms. 
Is There a Limit for the CBD Gummies You Should Eat?
Before we talk about how many CBD gummies is too much, it's best that you figure out how you can benefit from cannabidiol in general. Aside from treating chronic pain, there's also proof that it can help those who suffer from anxiety and stress disorders.
Anxiety usually is addressed by prescription medication, i.e. Prozac, Celexa, but those things bring with them scary and sometimes fatal side effects. On the other hand, CBD can alleviate the symptoms of anxiety and stress without the usual risks. 
The number of gummies you take depends on medical objective or healing effect you intend to achieve. Likewise, you must figure out your tolerance for CBD consumption since everyone has different responses to it. 
Suppose you're a newbie in taking any supplement containing CBD; it means you should go about one or a couple of gummies and spend an hour waiting for it to influence you. But if you're someone who's been taking CBD supplements for at least a year now, then you may have a higher tolerance for the gummies. But like all things in life, there's no harm in starting slow and making your way up. 
What if I Eat Too Many CBD Gummies?
If you're concerned about getting high, then you shouldn't be. Supplements with CBD in them do not have a psychoactive effect, which means you never will get high with it. Perhaps the only thing you'll be guilty with is the sugar content in the gummies!
Why Choose CBD Gummies Over Other Supplements?
Aside from the fact that you're getting CBD from them, you should go for gummies because they're the best in terms of masking the unpleasant taste of CBD. It's not like it awful on its own, but gummies give you a snack that's ready to go and tasty at the same time. So, munch one whenever you want without the feeling of guilt. 
Some people are all-in for CBD gummies in dealing with their anxiety. The frequency of use varies, with some taking at least two in the morning and another right before going to bed.
Gummies offer the convenience you wouldn't get from vaping or oil. You benefit from consistent doses, and people don't judge you merely because you're bringing an oil dropper in the office or a public place. Now, who's going to judge you if you're munching on gummies?
What are the Downsides to CBD Gummies?
Probably the only downside of CBD gummies is you don't expect them to be fast-acting. It means you shouldn't consider it as a functional cure for anxiety attacks. Yes, it can help in pain alleviation and anxiety control, but it's no wonder drug if you know what we mean. 
Be sure to store your CBD gummies in a place away from light, air exposure, and heat. Like candies, you must put them in an airtight bottle or container. A sealed container ensures it'll last for months. Not that we expect you can resist storing them that long.
Hempness Brand CBD Gummies
If you're looking for a tasty way to consume CBD, Hempness CBD Gummies are the perfect choice. Each Hempness brand CBD gummy contains 10mg of THC free CBD.