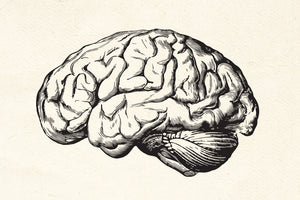 How Does CBD Work to Stop Seizures
The prospect of CBD as a treatment for seizures first came to light in 2013 when various media outlets in the U.S. reported about the case of a six-year-old girl named Charlotte Figi. Charlotte was reportedly suffering an average of 300 seizures each week, which lead her unable to eat, talk, or even walk. Her family said that antiepileptic drugs (AEDs) weren't working. 
But when CBD, a component found in cannabis, was introduced as an alternative solution for reducing her seizures, the family claimed that it led to a full cognitive recovery. 
Does CBD Oil Really Stop Seizures?
We know of a handful of anticonvulsants used in treating epileptic seizures, but not all of them lead to full recovery. About a third of all patients end up failing because the side effects were too much for them to bear or maybe the AEDs didn't stop or reduce the episodes. 
Hundreds of families with a member suffering from epilepsy eventually decided to relocate to other states where they can legally purchase and use CBD right after hearing Charlotte's story. Considering that the disease has life-threatening complications, it's hard to blame families once they look for an alternative treatment. The disease could result in brain damage and trauma.
Not every medical expert agrees that the use of CBD oil will treat epileptic seizures. But it is not for the reasons you think. The reason why CBD oil for seizures isn't universally recognized is because of the lack of enough medical research. But with the promise shown by the case of Charlotte Figi, the attention has shifted to medical marijuana as a potential treatment for epilepsy. 
The problem with medical marijuana is its link to the psychoactive properties of THC. Like CBD, THC is a component of cannabis with a considerable potential of treating a host of human disorders.
The difference is that CBD does not have psychoactive qualities. So, when the story of CBD oil treating Charlotte's episodes, it appears like researchers now a renewed interest in finding an alternative to AEDs.
Studies Supporting CBD Oil for Seizures
According to some studies, CBD oil has the potential to treat epileptic seizures. There already is scientific proof of the effect of CBD in the body. The CB1 and CB2 receptors in the human body's endocannabinoid system interact with CBD, which in turn affects the way the brain transmits information. 
Research shows that CBD activates the endocannabinoid receptors. When that happens, they interact with the central nervous system, specifically inhibiting the synapse firing, which corresponds to reducing seizure activity in the brain. In other words, CBD oil for seizures makes sense based on existing medical research.
Ongoing studies focus on the gamma-aminobutyric acid (GABA) transmitter in the brain. It is responsible for inhibiting a handful of responses throughout the human body. The premise is that by altering the production of GABA in a brain suffering from epilepsy, there's a chance of reducing the likelihood of seizures. Most AEDs use this research to manufacture treatment for patients with epilepsy.
Ongoing Research on CBD and Seizure Reduction
Various medical groups, including the Epilepsy Society, support the idea that CBD can be effective in reducing certain types of seizures attributed to epilepsy. This is based on proof that CBD oil can treat Dravet and Lennox Gastaut syndromes. 
A recent controlled trial where a group of young individuals were administered with pure CBD showed a significant decrease in monthly seizures. 
The research focused on the effectiveness of CBD oil and other products for treating epilepsy remains a provocative topic today, but it is only a matter of time before the world accepts it as a legitimate treatment.
Hempness CBD for Treating Seizures
While we can't make any claims directly, and you absolutely should consult with your doctor, the CBD contained in Hempness Gelcaps may reduce or treat seizures. Just remember to consult with a healthcare professional before starting any new medications or supplements.